Design Package: Christmas Business
Want to manage your own Christmas business site? Need a holiday related storefront? Our Christmas Business site package is absolutely perfect for all your business needs. We can create a storefront that includes unlimited product listings, a modern shopping cart capable of accepting payments via multiple payment gateways, including PayPal or the ability to process credit cards through your own credit card processing company.
The Christmas Business package includes a CUSTOM design that is all your own! Like the sparkly snowflakes that fall from the sky, no two sites we design are alike. You get a custom Christmas or Wintery design, in the color scheme of your choosing. Your Christmas business site will be built to look great in any modern browser using PHP, HTML 5 & CSS3.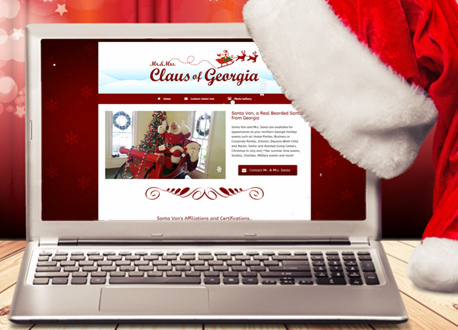 Your business site includes lots of jingle bells and whistles…
Custom Site Design with Logo
Storefront with Unlimited listings
Offer coupons & discounts
Product Reviews & Ratings
Set Multiple Shipping Rates
User Accounts for Order Management
Testimonial Slider with Star Ratings
Social Sharing Buttons
Custom Christmas Countdown
Up to 5 matching Email Addresses
Contact Form
Blog feature
Mobile Friendly
All of our custom sites include a matching Christmas Countdown!
The Christmas Business package is an easy to update Content Management System with a professional storefront built in. You have the ability to easily login to a modern admin panel and add or edit products, pages or galleries. You also get a blog feature built in, so that you engage your customers with current news and events about your business.
$1850 + one time set up fee of $20.00
Website Package Payment Terms:
40% deposit to schedule your on our calendar and commence site development.
60% remainder upon approval of completed site – due before site goes live.
Christmas Business Package – Terms & Conditions:
You are responsible for writing all page copy and supplying photographs and descriptions for the products in your store. All content must be submitted within 15 days of site agreement. We will add the first 25 products to your store, and provide training videos on site management, as well as email support. Once site is paid in full all images, domain and copyrights will be released into your name.
Accepting credit cards through your own payment gateway requires a SSL Certificate and additional programming – please inquire about pricing.
Your site can be built on our server at a monthly cost of $35.
Recent examples of the Christmas Business Package:
Learn more about our Christmas business shopping cart…
If you would like to know a little bit more about the features we offer, take a look at this list of a few of it's features we have put together. If you have any questions please feel free to contact us.
Unlimited possibilities!
Your store can handle anything from one product to hundreds, depending on the hosting solution you choose.
Add and manage products: Quickly add products to your store, select images sizes for catalog, single product and thumbnails. Selectively enable a lightbox for product images.
Product types: Simple Product, Grouped Product, External/Affiliate Product, Variable Product and Virtual/Downloadable Product.
Product variables: Your store lets you offer a set of variations on a product with control over prices, stock, image, and more for each variation (i.e. for a product like a shirt, you can offer a large, small, etc).
Inventory management: You can manage your store's inventory easily, track stock levels, hold stock for a period if an order is cancelled, receive notifications to a custom email address (for both low and out of stock items), hide out-of-stock items and more.
Flexible USPS Shipping Options
Shipping Calculations: Enable shipping option choices within your store.
Cart Calculator: You can enable a shipping calculator on the cart page.
Shipping prices: Optionally hide shipping costs until an address is entered.
Flexible shipping destinations: Select from shipping address and billing address or only ship to users billing address.
Restrict sales: Restrict shipping locations by country.
Multiple Shipping Methods: Flat rate, International Shipping, Local delivery, Local pickup or Automatic which chooses the cheapest method available. Or even offer free shipping.
Multiple Shipping Zones: Create multiple shipping zones and add any combination of shipping methods to any single zone.
What about tax?
Control your taxes: Taxes are the last thing you want to think about when setting up your shop and one of the last things your customer wants to think about when buying online. So we've made it simple, included in core.
Custom tax calculations: Taxes can be calculated based on your customer's shipping address, billing address or your stores base address.
Geo-location enabled taxes: Based on your location, WooCommerce can automatically calculate major country and state tax rates.
Select customer address: Allow your store to select your customer's address from either none as default, your store's base address or by geolocating the customer's address.
Control tax classes: Optionally control which tax class shipping gets, or leave it so shipping tax is based on the cart items themselves. Control the display of taxes in your store: Select if prices are displayed in the shop excluding or including tax. Select if prices are displayed during cart and check excluding or including tax and select if tax totals are displayed itemised or totalled.
Define tax rates: Choose from standard rates, reduced rate rates or zero tax rates.
Built-in Marketing Features
Discount coupons and codes: Choose from fixed value or percentage off coupons. Allow for free shipping through the use of coupons and set the date a coupon should expire and can no longer be used.
Choose the coupon type you need: Cart discount (a fixed total discount for the entire cart), cart percentage discount (a percentage discount for the entire cart), product discount (a fixed total discount for selected products only), product percentage discount (a percentage discount for selected products only).
Product reviews: Enable or disable the ability for people to leave product reviews on your store.
Owner verification: Choose to allow reviews from verified customers only and show a verified customer label for reviews.
Built-in Analytics & Reporting
Reporting: Sales reports can show both net and gross amounts you've earned.
Dashboard: We've worked hard to make the storeowner dashboard helpful. It includes sales orders, traffic and an at-a-glance status summary window.
Analyze products and orders: Gain insight into your products and orders. Track sales and growth trends.
Store Management
Control customer account registration: Choose to allow customers to register on the checkout page or account page and/or display a returning customer login reminder on the checkout page.
Customer accounts: Allow customers to generate their username from their customer email, easing the account creation process.
Automatic passwords: Decide if you want to automatically generate customer passwords for customers.
One-click refunds: By using the Stripe, Simplify Commerce, PayPal payment gateway or any other supported gateway, you can offer pain-free refunds to customers.
Product variables: Select unit weight and dimensions.
Upgrades available!
Our store is extendable! Accepting credit cards through your own payment gateway requires a SSL Certificate and additional programming – please inquire about pricing. Need a feature not listed? Chances are we can do it! Contact us with your project needs for an estimate.