Design Package: Santa Single
Ok, so it's not really a single page web site. Our Santa Single design package is absolutely perfect for the professional Santa who wants to get the word out to his local community about his services and appearances.
The Santa Single package includes a CUSTOM design that is all your own! Like the sparkly snowflakes that fall from the sky, no two sites we design are alike. It's your site and we want it to reflect your Santa personality.
You get a custom Christmas or Wintery design, in the color scheme of your choosing. Your Santa site will be built to look great in any modern browser using PHP, HTML 5 & CSS3.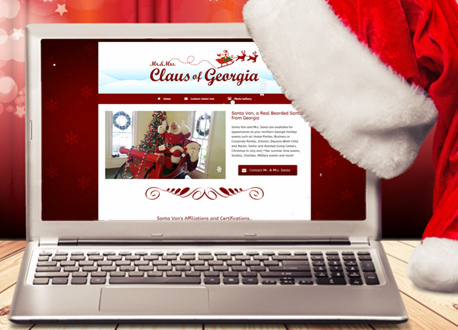 Your Santa site includes lots of jingle bells and whistles…
Custom Site Design with Logo
3 pages; home page, photo gallery page, contact page.
Social Sharing Buttons
Custom Christmas Countdown
Optional: Snowflakes Falling
Optional: Christmas Facts
Optional: Music playing on Photo Gallery page
Mobile Friendly
All Santa Sites include a matching Christmas Countdown!
Just think of it as a giant online business card — the Santa Single web design package will include all the information about you.. things such as your location, service area, hours you are available, your résumé and your contact information.
$595 + one time set up fee of $20.00
Domains registered for you $21.95/year.
Site Hosting: $15.95/month – Recurring monthly payments.
Already have a domain? Great, we just need access to point it to hosting.
Website Package Payment Terms:
40% deposit to schedule your project on our calendar and commence site development.
60% remainder upon approval of completed site – due before site goes live.
Santa Single Package – Terms & Conditions:
The Santa single is a special page package offered only to professional Santas and is limited to three pages. We build your site with the content you supply in the first 15 days of our agreement. *Edits or additions after initial site build are an additional cost, see below.
You are responsible for writing all page copy and supplying photographs for the gallery. All content must be submitted within 15 days of site agreement. Once site is paid in full all graphics, domain and copyrights will be released into your name.
Your site can be built on our server at a monthly cost of $9.95. If you want to choose your own hosting company we suggest HostGator. We currently decline to work with GoDaddy hosting.
*The Christmas Network can be hired for graphic design, additions or changes to your Santa Single site package, billed in advance with a 2 hour minimum, at the reduced rate quoted in your contract.
We understand each season you will have new photos to add to your photo gallery. The gallery feature can hold unlimited photos, however it takes time to add them. We charge a small fee of $35 to add your pictures after the season. When you need pictures added we will set a time and date on our calendar to update your site. All pictures must be submitted before the scheduled update begins.
There is no additional charge for small edits such as a changed phone number or new email address, or small edits to site text, within reason.
Want to upgrade your Santa Single Package?
You can add additional pages or features to the Santa Single.
Additional Pages added: $75/each
Add on a matching blog section: $175
Add an Online Store: $349.00+
Add a Testimonials Slider: $89
SSL Certificate: $45/yearly
Recent examples of the Santa Single
Order the Santa Single, today… for a site built to soot you!